19 Districts are Yet to Recover from the Crisis
Desislava Nikolova
In 2014 the Bulgarian economy finally managed to overcome the effects of the last economic crisis, as the national real GDP surpassed its pre-crisis level. Nevertheless, the recovery is yet to occur in most of the country's regions.
Real GDP has still not reached its 2008 level in 19 of Bulgaria's 28 districts. These districts are scattered throughout the entire country, with (unsurprisingly) the North-West region being the only one in which none of the districts (Vidin, Montana, Pleven, Lovech and Vratsa) have recovered.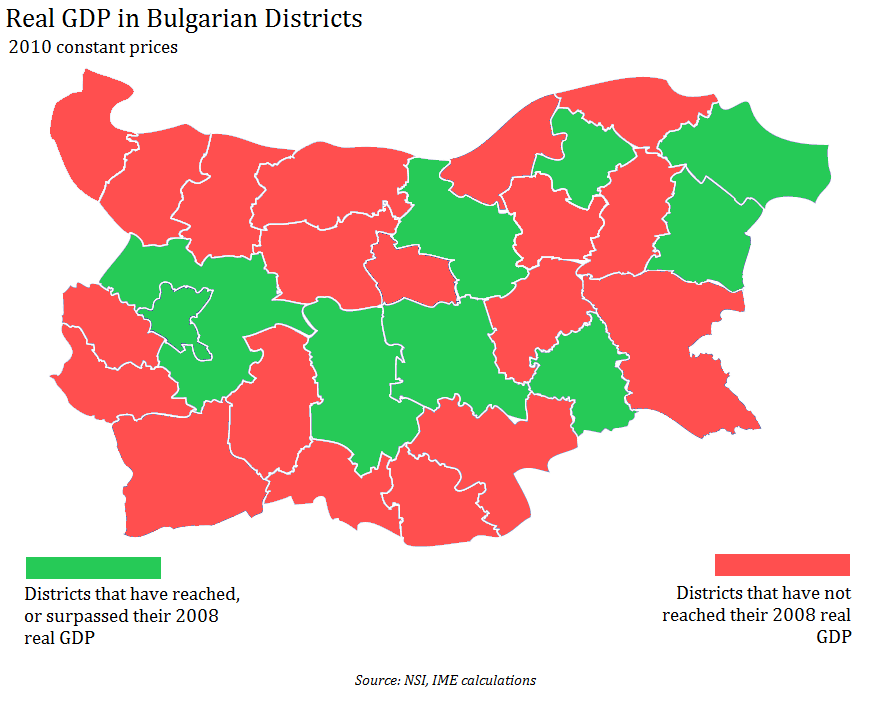 The other two northern regions are still recovering, but are close to the "finish line" – i.e. the pre-crisis level of production. The districts, whose economies are front running the recovery in these regions and have already overcome the effects of the crisis, are Veliko Turnovo and Razgrad in the North Central region and Varna and Dobrich in the North-East region.
As of 2014 the South Central region is also still "under water" and its real GDP is yet to reach the 2008 levels. In this region, though, the district of Plovdiv remains the great exception. Due to significant investment in the last few years, Plovdiv's real GDP is already 8.5% higher than back in 2008.
The South-West and South-East regions have already reached real GDP levels that are 2-3% higher than before the crisis. The districts that lead the recovery process in these regions are Sofia (cap._ and Sofia (district) in South-West Bulgaria and Stara Zagora and Yambol in South-East Bulgaria.
Considering the fact that Bulgaria's real GDP growth accelerated to 3% in 2015 (nearly twice the 2014 level), it is quite probable that other districts have also already reached their pre-crisis levels. In 2015 employment levels increased in most of the country's districts, which implies the continuing spread of positive economic trends. The 2015 regional GDP data will show which districts face more than simply cyclical problems, but rather structural issues such as lack of investment, rapidly deteriorating demographics, lack of qualified labour force, low level of infrastructural development or other factors, which hinder the development of these regions.